Picturing Scotland:

Scotland's Mountains

Content: A photographic journey through Scotland's mountainous regions from the Paps of Jura to Inverpolly. The photographs get to the heart of the great ranges such as the Arrochar Alps, Highland Perthshire, Glen Coe, the Cairngorms, Nevis Range, Torridon and the Cuillins of Skye, with portraits of the mountains and the panoramas seen from them. The seasons and moods of these landscapes are revealed, with many images that capture the extreme snows of recent winters. Of the 77 pictures in this new collection, 60 are published here for the first time.

For a list of featured locations, see below.

Market: Books in this series are bought by visitors and locals alike to give as gifts or to keep for their own enjoyment. They are also helpful to those planning a visit as the book leads the reader on a geographical tour of the area. To visitors, they are a great reminder of a visit, while local people buy them to send to friends and family to show off where they live.
Author: Colin Nutt has worked in book publishing for over 30 years and has written and compiled around 40 books in this and other series. He lives in Elgin.
Photography: Colin Nutt and other contributing photographers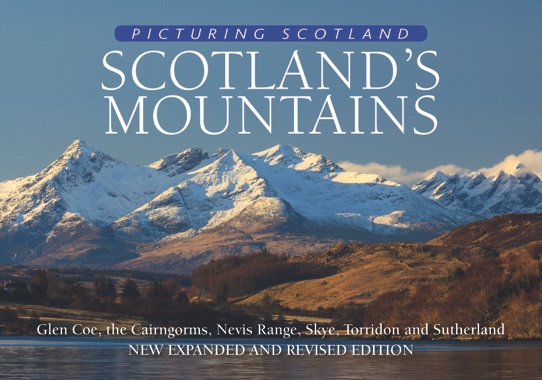 Extent:
80 pages
Binding:
Hardback
ISBN:
978-1-906549-17-6
Price:
£ 4.99 plus shipping
Featured Locations:
Argyll:
Arrochar Alps
Beinn an Lochain
Beinn Narnain
Ben Arthur (The Cobbler)
Ben Cruachan
Ben Donich
Ben Starav
Stob Diamh
Inverness-shire:
Beinn Fhionnlaidh
Mam Sodhail
Sgurr na Lapaich
Tom a' Choinich
Islands:
Beinn Choradail, Outer Hebrides
Beinn Mhor, Outer Hebrides
Ben More, Isle of Mull
Clisham, Outer Hebrides
Hecla, Outer Hebrides
Paps of Jura:
Beinn a' Chaolais
Beinn an Oir
Beinn Shiantaidh
Isle of Skye:
A'Ghlas-bheinn
Am Basteir
Beinn Dearg Mhor
Bla Bheinn
Black Cuillins
Glamaig
Inaccessible Pinnacle
Red Cuillins
Sgurr Dearg
Sgurr nan Ghillean
Lochaber:
Aonach Beag
Aonach Eagach
Aonach Mor
Beinn a' Bheithir
Ben Nevis
Ben Resipol
Bidean Nam Bian
Buachaille Etive Mor
Creag Meagaidh
Garbh Bheinn
Mamores
Meall na Dearcag
Nevis Range
Pap of Glencoe
Sgorr Dhearg
Sgorr Dhonuill
Sgurr a' Mhaim
Stob Coire Claurigh
Stob Coire nan Lochan
Stob Poite Coire Ardair

Perthshire & Stirling:
Ben Lawers
Ben Ledi
Ben Lomond
Ben Lui
Ben More
Ben Vorlich
Ben Vrackie
Carn Mairg
Schiehallion
Stob Binnein
Ross & Cromarty:
An Teallach
Beinn Airidh Charr
Beinn Alligin
Beinn Eighe
Ben Mor Coigach
Corrie Mhic Fhearchair
Cul Beag
Cul Mor
Fannaich Mountains
Fisherfield Hills
Five Sisters of Kintail
Liathach
Ruadh-stac Mor
Sgurr Ghlas Thuill
Slioch
South Glen Shiel Ridge
Stac Pollaidh
The Saddle
Sutherland:
Suilven
The Cairngorms National Park:
Beinn a' Ghlo
Ben Macdui
Black Pinnacle
Braeriach
Cairn Gorm
Cairn Toul
Carn a' Mhaim
Carn Liath
Lairig Ghru
Lochnagar
Sgor an Lochan Uaine
Colin Nutt, Ness Publishing, 47 Academy Street, Elgin, Moray, IV30 1LR
Tel: 01343 549663, Mob: 07962 014871, Email: info@nesspublishing.co.uk